Books are amazing things. They bring you joy, knowledge, escape, and inspiration. They come in all shapes, sizes, and formats. And they will help you get this year started off on the right foot.
I
love to read. I can't get enough. From magazines to online articles and everything in between. I especially love reading books. They are little consolidated tomes of knowledge around one subject area or another. I typically start my mornings off reading non-fiction to get the juices flowing and end it with a good novel to relax the mind.
And when it comes to books I don't discriminate: the real thing, audiobooks, or e-books are all welcome on my shelf. Although I love the physical feel, smell, and touch of the real thing (and also LOVE collecting books), digital books simply offer another level of convenience that the real thing just can't compete with. Audiobooks can be fun as well, but for non-fiction I often find that I can zone out fairly easily and then I completely miss chunks of chapters. Figuring out how much I missed or taking notes on something that is said is far too troubling for me to bother with. On the other hand, I'm loving Serial, so fiction or podcasts are still great.
One thing I've noticed, at least for me, is that I have to be careful about not using books as a crutch or an excuse for actually accomplishing real work. Sometimes I get too caught up in seeking knowledge and learning about something that I don't create any valuable work. I go from book to book, learning but not excecuting. Be wary of this trap! It's much better to get one book, learn what you can from it, and then dive into the subject, learning as you go. From there you can find most of the supplemental resources and tools you need online to answer any questions you may still have.
Despite this single caveat, books are effing awesome. I figured as we embark on the new year, I could offer a few suggestions on some of my favorite books that may help you get the year started off on the right foot. Below are my top 5 books to usher in the new year!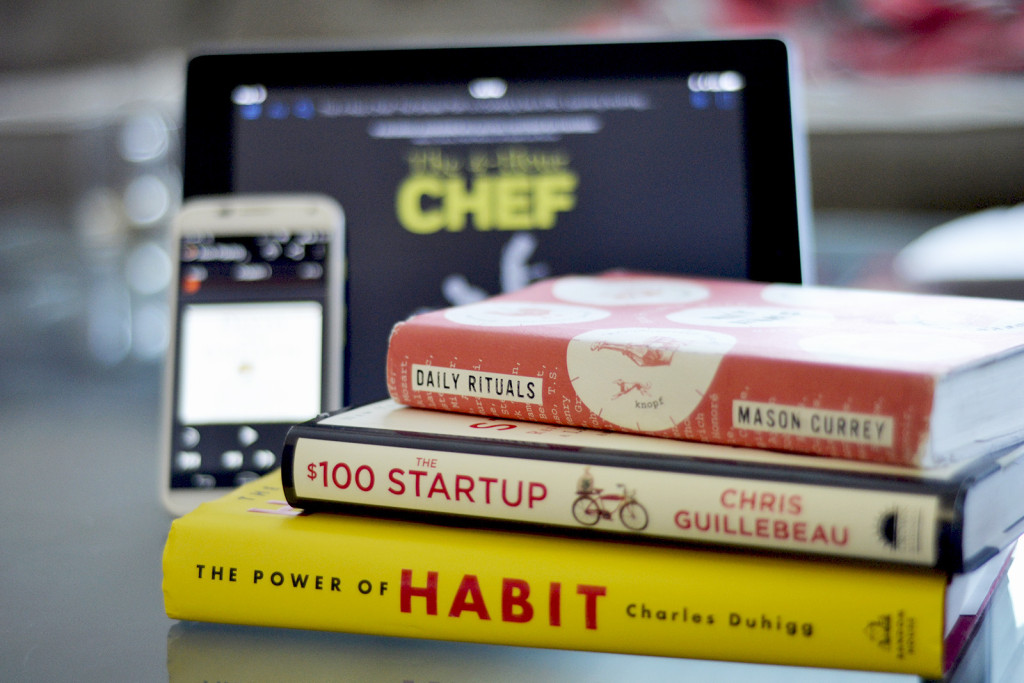 Resolutions don't mean much if you don't stick to them and often that's the case. How do you actually follow through on the sweeping statements you made for the new year? Learn how to form habits. The Power of Habit is all about explaining the science behind habits. Full of great case studies and the actual steps needed to fully form a habit, this is a great read for the new year. Check it out here.
We've seen a massive wave of entrepreneurship over the past few years and I believe it's going to continue growing. A lot of us may still be reluctant to try and launch our own business, but it's not as scary as you think. The $100 Startup guides you through the startup landscape and shows you how you can pursue your passion, make a healthy income, and get started with as little as $100. Check it out here.
This year appears to be a big one for food in general and there's no better guide to get your feet wet in the kitchen than The 4 Hour Chef. Tim Ferriss once again breaks down cooking (and a ton of other things) in this tome of information. It has techniques, tools, recipes and much more to master the kitchen faster than you thought possible. Check it out here.
Malcolm Gladwell does it again with his recent book David and Goliath. This one is all about the underdog and how they may be in a better situation than we perceive. Gladwell challenges how we think about the many barriers and disadvantages people face and sheds light on the positive impact that it can transform into. Check it out here.
Routines have been shown to increase productivity, maximize potential, enable flow, and much more. Daily Rituals takes a look at a number of great artists, authors, and influencers of the past and documents their odd routines and rituals. It's not only interesting to see the random quirks and habits of so many amazing people, but hopefully it will also get you thinking about what kinds of rituals you can implement into your day. Check it out here.
Hope you enjoy the books and here's to a great new year!