A few things about me…
I love learning. This is the generalist in me; my curiosity drives 99% of what I do. Learning new things and then applying that knowledge to something I can create, is a beautiful thing.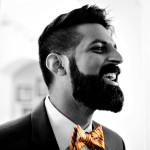 I love ideas. Ideas are exciting, inspiring, and full of possibilities. They lead to successes and failures, joy and misery. Everything in life starts with an idea.
I love curating. Organizing information is something I do for fun (yeah, I'm that guy). I just have an eye for organizing and finding the best of the best, a skill that is definitely gaining value today.
On a more serious note, I love spending time with my beautiful wife, hanging out with my close friends and family, and enjoying a cold one on a hot day.
LESSONS FROM LIFE… SO FAR
COFFEE IS THE GREATEST THING EVER INVENTED
TRAVEL IS THE BEST WAY TO EXPERIENCE ADVENTURE
VIDEO GAMES ARE A GREAT WAY TO UNWIND AFTER A LONG DAY
BEING ACTIVE IS IMPORTANT. YOU NEED TO SWEAT
You can say hello here or find me online at: Facebook, Twitter, Instagram, Pinterest, and Flipboard.
Cheers!